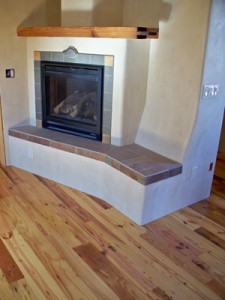 Stout Hardwood Floor Co. has the ability & resources necessary to successfully install all types of hardwood flooring. Together we will research & choose the best style of wood flooring to install based upon your individual needs & building accommodations. We'll take the steps necessary to ensure that your investment will, indeed, last a lifetime…
Solid Wood flooring is still very popular today.  It is available in unfinished and prefinished, typically 3/4″ or 1/2″ thick and it is nailed to a properly prepared wood sub-floor.  Different grades, species, widths and styles offer an endless array of possibilities. We are able to further enhance the style of your floor with feature strips, decorative borders and inlays.  Unfinished wood floors can be custom stained and finished on the jobsite.
Engineered Wood flooring has a strong presence in the remodeling market typically where concrete slabs prevail.  This type of flooring is built in layers, like plywood, so it resists dimensional movement caused by changes in the moisture content present in concrete slabs and relative humidity swings. It is available in unfinished and prefinished, typically 3/8″ – 5/8″ thick and can be floated, glued or nailed (over wood) to a properly prepared sub-floor.
Prefinished wood flooring is stained and/or finished by the manufacturer at their factory. Just about every specie, color and width is available prefinished. The advantages of prefinished wood flooring is shorter installation time, more durable finish and cleaner installation (no sanding dust). We represent the following prefinished wood floor manufacturers that offer 20-25 year wear through warranties:
These are our industry leading manufacturers represented by Stout Hardwood Floor Co., Inc.:
Kahrs  www.kahrs.com , The Garrison Collection www.thegarrisoncollection.com, Hallmark Hardwoods www.hallmarkhardwoods.com, Stoehr Hardwood Floors www.stoehrflooring.com, Provenza USA www.provenzafloors.com, Olde Wood Limited. www.oldewoodltd.com, California Classics www.californiaclassicsfloors.com,
Muscanell Millworks www.muscanell.com, Genesis Hardwood www.genesishardwoodflooring.com.
Every wood floor installed by Stout Hardwood Floor Co., is just that—our floor. We're committed to provide superior workmanship & the best materials available.